New Zealand Tractor/Van Driver Jobs 2023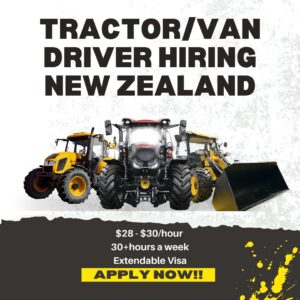 Introduction
Are you prepared to successfully direct your career? In the beautiful Gisborne region, we are currently looking for full-time permanent Tractor/Van Drivers to join our dynamic team. This position could open the door to a fulfilling career for anyone, seasoned driver or determined individual keen to take on new challenges. In this blog article, we'll go into more detail about this position, point out its outstanding benefits, and provide you the information you need to join our expanding team.
A Purpose-Driven Role
Your job as a tractor/van driver is crucial to our operations because it entails operating business vehicles and assisting in the overall success of our horticulture and farming endeavors. You will be in charge of effectively moving items, transporting team members to their work locations, and guaranteeing the secure and efficient running of our machinery. Responsibility, dependability, and a sincere desire for delivering top-notch performance are requirements for this position.
Key Attributes We Seek
Even though prior experience in this position is a plus, it is not a requirement. We firmly believe in promoting a culture of ongoing learning and development. We strongly encourage you to apply if you are motivated, have a good work ethic, and have a genuine interest in contemporary agricultural tractors and other farm equipment.
Core Responsibilities for New Zealand Tractor and Van Driver Jobs 2023
Driving and Transport Expertise: Your primary responsibilities encompass driving vans, tractors, and other specialized farm machinery. You'll be responsible for efficiently transporting our valued employees, relocating goods and labor to various work sites, and ensuring the safe return of each team member at the end of their shift.
Vehicle Maintenance: Consistent vehicle inspections, thorough lubrication, and meticulous adherence to road check compliance standards are integral to this role. Regular servicing, monitoring of oil and water levels, and immediate reporting of any issues to our Manager are vital components of this responsibility.
Safety as a Priority: Your alertness while driving, strict adherence to speed limits, and the safe and efficient operation of vehicles and equipment are paramount. Safety is the cornerstone of your role, encompassing the well-being of yourself, your colleagues, and the general public.
Horticultural Support: Operating tractors and other vehicles for the seamless transportation of materials, as well as assisting in the movement of horticultural equipment, is an essential aspect of your contribution to our farm operations.
Delivery Excellence: Efficient collection and delivery of diverse items to different addresses within the region are key components of this role. Adhering to predefined routes, maintaining strict adherence to time schedules, and upholding the highest safety standards are non-negotiable.
Our Comprehensive Offer for New Zealand Tractor and Van Driver Jobs 2023:
Guaranteed Hours: We're committed to providing a minimum of 30 guaranteed hours of work per week, ensuring a stable and predictable schedule for you.
Competitive Compensation: Our hourly rate for these positions falls in the attractive range of $28 to $30, reflecting our commitment to rewarding dedication and hard work.
Training Opportunities: If you don't currently possess the required license, worry not. We're here to provide comprehensive training, ensuring you're fully equipped to excel in your role.
Room for Advancement: Consider this role as a stepping stone towards a brighter future. With dedication and a keen willingness to learn, there's significant potential for growth within our organization.
A Vital Contribution: By joining our team, you become a significant contributor to the success of our farming and horticultural pursuits, directly impacting the Gisborne region.
Applying Is Simple
It's time to move forward if this wonderful opportunity fits with your goals. A suitable license, or at the very least a restricted license, is necessary for the Tractor/Van Driver Role. You can be sure that we'll give the appropriate candidates the necessary training.
Visit our dedicated application page at [Also Apply from here], submit your details, and get ready to embark on a rewarding and impactful journey as a Tractor/Van Driver in the scenic Gisborne region, New Zealand. Join us in driving excellence, safety, and growth, and be a part of something truly meaningful. We're eagerly looking forward to welcoming you to our team!